Facade Study
Laban Dance Centre
Herzog & De Meuron, 2003
Deptford Creek, Southeast London
88,264 square feet; 2 stories
The Laban Dance Centre is a performing arts schools founded by Laban. The architects were commissioned to build a new dance centre in a former dumping site with the task to transform the area in to a rejuvenated zone. Some of the requirments in the brief include;
- Provide inspiring and collaborative spaces
- Bold decorative scheme
- Inspiring focal point and rejuvenated zone
- Light and colour play
The architects had managed to make a stunning design, and the following year were awarded with the Sterling Prize. One of the main reasons they were able to achieve this was through the innovative use of the facade material, Poly-carbonate.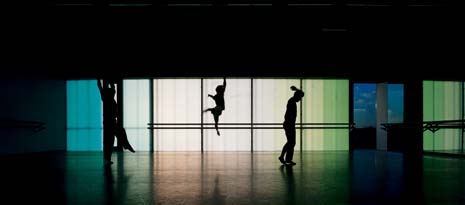 As many of the studios are under constant use, there was a demand for natural but diffused light. Through research with ARUP, they developed an appropriate screen of polycarbonate which allowed for effective diffused light to spread throughout the studios. The polycarbonate also allowed for a playful touch of colour throughout the building, while also contrasting private space with public by create a cloudy aesthetic so the dancers silhouette could be seen from the outside.
The facade also features a double skin element. The main polycarbonate is on the exterior skin, which in attached to the main concrete structure. This allows for stack ventilation to be introduced throughout the building.